Forever Morgans purchased Aquila's Zena for five hundred dollars - the standard fee her Amish owner would have received from the slaughter transports. My adoption fee is nine hundred. On December 30, 2014, she arrives at my home. foster caregiver Kathy Crozier delivers Zena from Illinois for three hundred dollars - barely more than just the cost of gas. Truly, a holiday package for me. it is a four hundred mile trip that skirts Chicago and consumes seven hours each way. Kathy has been equally generous with other adopters. Zena is led from the trailer at my home. To show my appreciation and support a good cause, I arrange for a five-dollar automatic monthly on-line donation to Forever Morgans with no determined end.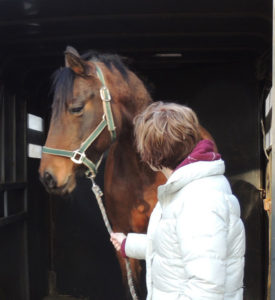 It would not be good for Zena, five-months pregnant, to be kicked or otherwise harassed by Sara or Sparky, but I let them meet through the fence as soon as she arrives.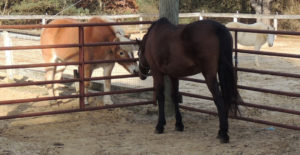 I have owned a number of old-style Morgans - none over 14-3 hands. Zena is taller than I expected. If she proves ride-able, I know I will not be able to mount her from the ground. On a daily basis, I do not find myself thinking I have lost strength over the decades; but I remember being able to lift eighty-pound oat bags. I cannot do eighty pounds now. When I was a young instructor, everyone taught that one should always mount from the ground. Using a box, chair, fence, picnic table, whatever, opened the possibility of falling back onto something that could break a leg, back, or neck. But then, Baby Boomers came into the industry as first-time horse owners. Not only did they foster in the young and struggling market for lighter-weight synthetic saddles, and boots other than western cowboy and English paddocks, but they birthed the wide-spread use of mounting boxes. The mantra, claimed by also-new-to-the-industry equine chiropractics, that consistently mounting from the ground wrenches a horse's back, now had an audience who listened and gave credence to the use of mounting boxes.
My fencing is old but has been durable enough for the senior and/or short horses I have housed. Now, I wonder whether it will be adequate. If Zena were a jumper, she would sail right over my top rail. The six-inch hard wire hog panels have never been a problem; but now I wonder whether a baby could hang a leg in them? As I watch Zena gazing over the fence, I wonder what she must be thinking. Taken from the horses she knew, transported to an auction facility with healthy papers cleared for Canada; i.e., suitable for human consumption. Re-transported for a thirty-day stint at a foster barn with strange horses and strange humans. And, now, here. Only two other horses. Still strangers. More humans. Five months pregnant with no one able to explain anything to her. What must she be thinking? I dedicate myself to her smooth transition.