Caring for Minor Problems
Zena arrived with a set of x-rays, but eighty-five-year-old Doc Jim sees little of concern. If there is a bone chip or spur, he has trouble finding it. He suggests I put her on a good joint supplement and give her some lay-up. She shows up gimpy every few days; but it is not always the same leg. I am left to ponder.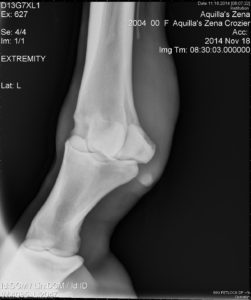 Our farrier (a blacksmith that cares for horses' feet) arrives to trim Zena's hooves. Although it was not mentioned before the adoption, Zena suffers a right front club foot. A club foot is a genetic defect where the heel grows faster than the toe and is common in certain Morgan show horse bloodlines. It is wrong of breeders to perpetuate the defect. Any neglect in the trimming of that hoof would have thrown Zena painfully off balance. my twelve-year-old granddaughter, Crystal, and I sit on her bareback once each week, but do not saddle or ride her. January and February pass with quiet, general care.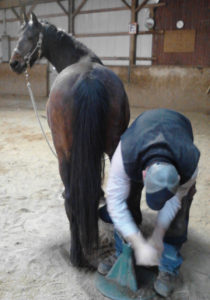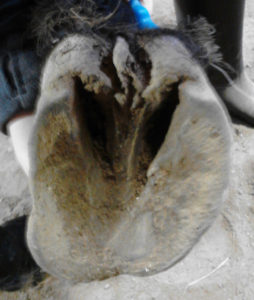 March 2015 ~ The Weather Warms
Sara and Zena appear to be bonding, but Sparky is not so accepting. February passes quietly but, as winter melts away, we introduce Zena to her surrounds. We own ten acres that backs up to Richfield County park on the banks of the Flint River. over our thirty years here, what we call the 'back ten" has grown quiet wooded. I mow two wide swipes to maintain a large circle path that extends from the parking lot on the east side of the indoor arena and pens, around to the back of the property where there is a gate that opens into the park, and back up the west side, ending on the west side of the pens and near the round pen. I mow four single-swipe paths that meander off and back onto the main circle. This leaves our trails sort of like a fun house at an amusement park – not a lot of space, but room for lots of walking.
A former riding student, Amanda Richards, stops by to walk Zena on the back ten. later that day, it is just warm and dry enough for me to lay down with Sara and Zena in the pen before heading out of town for a short snorkel trip with my retired biology professor husband. My good friends, Debby Schultz and Kim Kirby, care for the girls in my absence. Debby and Kim both came to me as non-horse-owning adult riding students; and have remained good friends in my retirement. Debby's heart was bonded to missy, who died of Cushing's Disease in her twenties. Kim was devoted to Buffy, who died of complications from mal-absorption when she was near thirty. Debby suffered a serious horse-related injury a few years back, and I wonder whether she will ever ride again. i am hoping that Zena and her foal will fill the horse-void in both Debby and Kim's hearts.
While I am away, kim leaves a note in the barn roster that reads, "Picked, fed, i love Zena. Got some beautiful pics. Brushed some. I have not felt such peace in months. Thank you colleen." On another day, she writes, "Rained all morning. put hay on tarp inside. Brushed Zena. She wouldn't let me leave, gave me kisses!" And, on still another day she writes, "I don't want to leave." In a final note she writes, "All good, filled water again, beautiful evening! Can I sleep here?!
It warms to fifty degrees on the afternoon i return. I saddle Sara for a walk off the ten acres and another thousand feet to the park road. For all the years I have owned her, this is the first time we go out alone. Schooling horses grow used to not being alone and my husband, Gary, is concerned about my riding unaccompanied. But, i do not own a trailer and that leaves me outside the circle of most riding buddies. The next day, Gary and Sparky join Zena and me for a lead-line walk into the park. It is Zena's first time off our property.