I cannot believe it is October. There is so much I want to do with Ruby before the snow flies. Like, having her walk amiably around the ten acres with me! And, stand quietly to be groomed. I really would like her to allow me to clean her feet without a fuss. At least I have begun the A-B video. This morning, she is exposed to ten minutes while I pick the arena. I groom Sara and Sparky; and groom Ruby after she finishes her grain. It is the first time (really?) I ask her to stand for grooming without being encouraged with a serving of grain.
October 2 ~ A planned trail ride with Kim is truncated when she offers to help me mend the fence along the neighbor's property line. Last week, I dismantled the divider between the two horse pens because I am going to replace it with new rolled wire fencing. That divider was made of sixteen-foot hard wire panels with two-by-fours attached to the tops and bottoms. I had struggled big-time to drag them to the parking lot on the east side of the property because, at the time, I did not know what I was going to do with them. Thanks to Sara, we now have a use. Kim and I employ the lawn tractor and cart to transport the panels from the east to the west side of the property. Kim can't believe I had dragged them out of the pen by myself. We then have to drag them through the trees, grapevines, and black raspberry bushes to get them to the area where Sara had broken through the old fence. We sure are bushed by the time we are done with the repair job; but the horses are now able to go out for the first time in a week.
October 3 ~ A five-star-day! An old friend of Kim's is in town, and he offers to help hang the new roll of horse fence between the two horse pens. He is able to get the job done today on his own; with no help from me. I follow behind and nail in extra staples; but that was about the extent of my labor. I give him a hundred and twenty-five dollars for his effort. But, that is not what makes it a five-star-day. Doc Lisa and Kelly come by to remove Ruby's bandage. They are thinking this might be the day we will leave it open. I start to remove the bandage before they arrive so that Ruby will not have to be sedated; but the bandage is on too tightly for me to pull it free. When they arrive, Kelly holds Ruby's halter tightly against her head; but when Doc Lisa attempts to slice the bandage with her razor blade, Ruby keeps moving. I ask whether she will loan me her blunt-ended scissors so that I can try to take the bandage off. The first time I attempt, Ruby still moves. So…, I go out on a limb. I remove Ruby's halter and hand it to Kelly. I then show Ruby the scissors and tell her I am going to take the bandage off. She stands perfectly still all the while I remove the bandage. All the while! She is perfect! That is what makes my five star day! The wound is dry, and smaller than before; but not completely healed over. I head to the office to get the dobber-bottle of Zetadyne + DSMO while Doc and Kelly retrieve new bandaging from their van. We are gone less than a minute but, when we return, blood is streaming down Ruby's leg – in a major way. Lisa explains that the wound is just so close to a lot of vessels. Alas, Ruby is completely rebandaged again.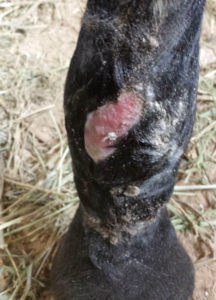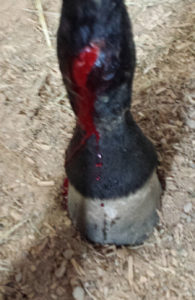 I do not do much with the horses over the next couple of weeks because I am doing major yard and barn work.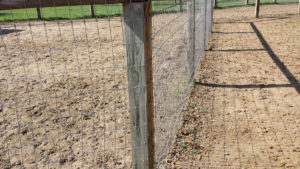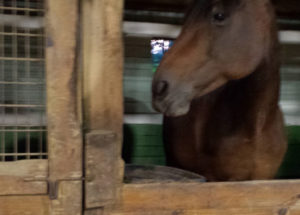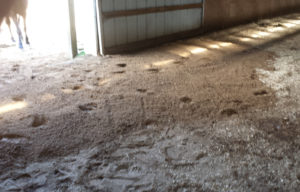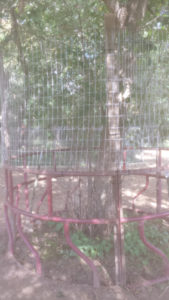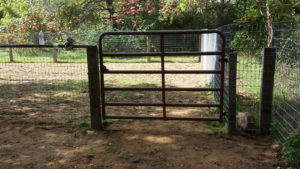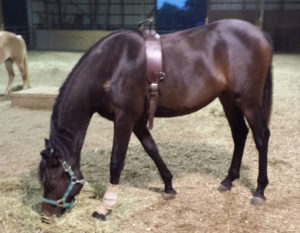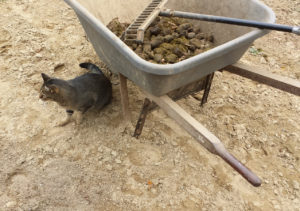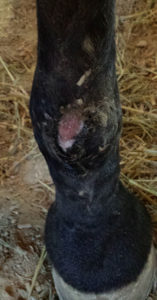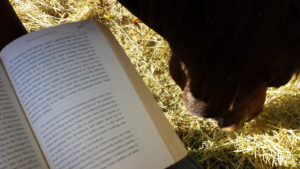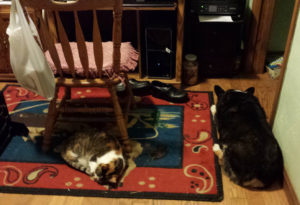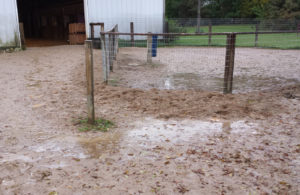 October 16 ~ A nice evening. Amy and I lead Zena and Ruby around the arena, with halters and leads – and with us at their sides, not out front. Ruby does well for a few minutes; but then starts thinking about treats. When she becomes increasingly insistent, I simply remove her halter and walk away. Amy and I continue walking Zena and, when Ruby approaches, we shoo her off – twice. We do not want to play unless she wants to play nice.
On October 17, Amy and I have an evening pajama party with the girls. I have had an old double bed mattress in the arena, so the horses could practice walking over something unstable and potentially scary. We pull the mattress close to the wooden mounting box, put a starry-night patterned blanket over it, and spread the horses hay around it. Then, we just sit and browse magazines.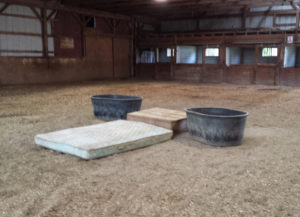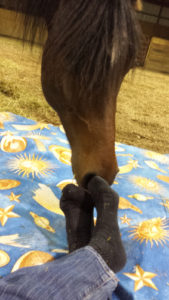 October 18 ~ Over the past week, I have been clearing out the tack room so that, this morning, I can bring Ruby in for her morning grain. I have moved both the stack of full grain bags, and my grain bin and supplement cabinet, into the bathroom. It is a good feeling to share the tack room with her again. I groom, spray her mane and tail, and lift all four feet. She gets a treat for each. In the evening, after graining, I put her out with the other horses so they can all eat their hay. But, Ruby walks to the tack room door and stands, waiting to be let in. She must have enjoyed the morning attention. I get some treats and play fetch with her in the arena. I ask her to walk with me but, without a lead, she will not accommodate.
October 19 ~ I groom Ruby in the tack room while she eats her morning grain. I have always kept her lead rope attached to her halter so that I can bring her back if she wanders too far from her feed tub. She generally wanders after every few bites to investigate her surrounds. Sometimes, she steps on the end of her rope. Today, I take the lead off after bringing her in. After grooming, I lift all four feet and clean each with the hoof pick. I do not give her a treat until I am done with all four. She is just fine with it. She then spends some time investigating the tack room and, for the first time, I leave her, with the tack room door open, while I put the other horses out. She can hear the stall doors opening and the horses leaving, but does not come out of the tack room. When I return, I find she has my little shoulder purse treat bag in her mouth, trying to loose a treat. I ask her to give it to me, give her a treat, and put the purse in the bathroom. When I return, I find she has taken my treat vest off the wall hook. So I ask her to give me the vest, I give her a treat from it, and hang it in the bathroom. She then takes an empty bucket from a hook. It drops to the floor and she struggles to pick it up in her teeth. It is clear that, now that she knows "pick it up," she looks for things to pick up for a treat. She has easily generalized that request. Back out in the arena, I ask her to walk with me, and we manage to complete a circle around most of the arena. She stops often to demand a treat, wherein I have to move her head out of my space. While I am picking manure, she comes back into the arena and follows me; still clearly treat oriented. I stop every so often to visit, but do not treat. When I am finished, I sit by the outside hay and read a half-chapter from Betty Frieden's "The Feminine Mystique." Today's chapter is about researchers, in 1945, studying how to encourage housewives to purchase more appliances and consumable cleaning products. The psychology behind it is sick.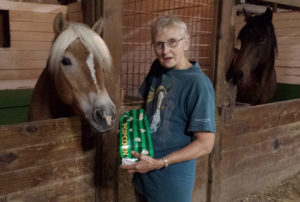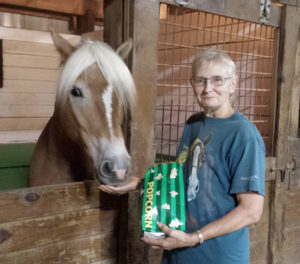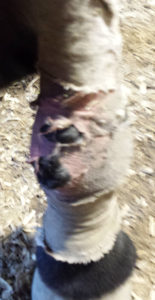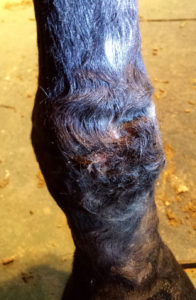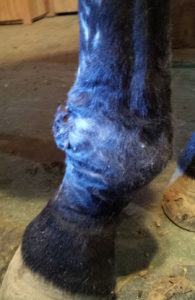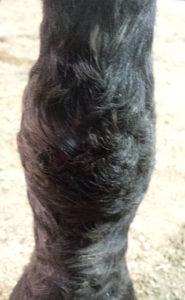 October 24 and 25 ~ I miss my girls. Amy and Kim care for them while I attend the Great Lakes Animal Advocacy Conference in Battle Creek. I have volunteered to host the HSUS (Humane Society of the United States) information table. Please don't tell only in the horse "industry," or I will be black-balled. If you don't understand this, you need to read more of my blogs.
October 30 ~ It is a crisp morning. Sara and I offer Olivia, my dumpster driver's ten-year-old daughter, a ride along the upper river trail. Her dad, Walt, leads Sparky and walks with us. This is only the third time Olivia has been on a horse; and I figure having Sparky along will encourage Sara to be especially quiet. Partway down the park road, Sparky notices carrots hanging out of Walt's pocket and steals one.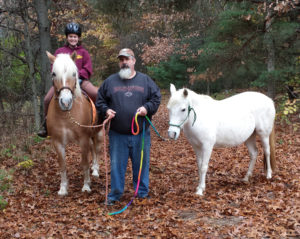 October 31 ~ Happy Halloween. Our grand-kids are too old to include us in any holiday plans they might have, and we are too far out of town to host trick-or-treaters. I grew up in a big family and used to think that life revolved around holidays. I miss them.  I plan to walk Ruby into the tack room for breakfast this morning, but she gives me a hard time on the lead rope. Maybe, it is because I have my old Corgi in the arena. This is a first. But, Ruby doesn't seem to be paying attention to Skipper. She is just giving me a lot of head language. I tell Skipper to go to the tack room before I drop Ruby's lead and just leave her in the arena with no breakfast. Skipper and I walk around the ten. When I return, leaving Skipper in the yard, I go into the arena to find Ruby standing in her stall. I put a halter on Zena, take the lead rope off Ruby, and put it on Zena. I walk Zena out the trail door, with Ruby following. Zena and I walk the ten, but Ruby does not follow. When we return, we find her near Sara's stall. After picking manure, I join the horses at their outside hay with my book and read for a half hour. At some point, Zena comes over to kiss me; and stand by me. A few minutes later, Ruby muzzles the back of my chair. When she chews on it, I stand and back her away; then return to my chair. She slowly meanders back and stands quietly; muzzling me between munches of hay.