July arrives with another Ruby problem – gimpy on her left rear leg…really weird gimpy. As she steps out of her stall, suddenly, her leg snaps up in a spasm. Sometimes, it spasms when she starts a turn. And, it has been happening almost every day. I am going to have to call Doc Lisa. In the meantime, Kim makes it over for a trail ride. We are getting in more riding this summer than I ever remember.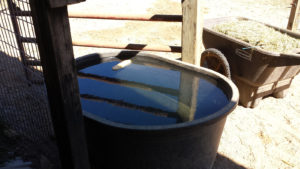 I celebrate the Fourth of July by hanging with my horses while bottle rockets and fire crackers sound from three close neighbors – even the ones who have a horse, and goats. In fact, they are setting them off right next to their barn. The big, quiet, bursts of color are beautiful; but I just do not get all the ear-piercing noise. How does sounding like a war zone inspire or thrill?
July 5 ~ Big changes in the barn! I have hired Blake, a local teen, to help me tear out the top half of the sidewalls in my stalls – so the girls can visit with and/or harass each other. Even if they are only in their stalls long enough to eat their grain, I am still trying to improve on Chuck Mitzlaff's "freedom of movement." Blake is earnest and hardworking, but it is clear to me that he has never handled a crowbar. And, for all the boasting about weight-lifting, he is not very strong. Still, he perseveres against the thirty-year-old tongue-and-groove planks until the job is done. His persistence is impressive. We bartered $10/hour but I give him $15 – a high wage for a kid and a low wage for the task.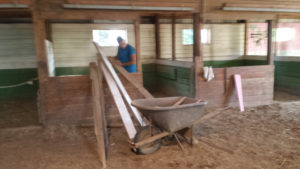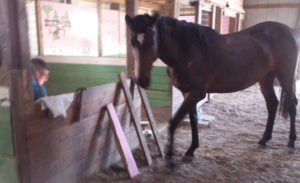 Kim makes it over for a trail ride on the sixth. After she leaves, I use new one-by-sixes to make tops for the divider walls between the stalls. The carpentry is not perfect, but the overall result is satisfactory.
July 7 ~ When I describe Ruby's malady to Doc Lisa, she know immediately what I am describing. Ruby's gimpy leg is caused from her growing tall too fast. Well, that's not surprising! Doc gives her a shot of Estrone (not an estrogen, even though it sounds like one) and it appears to help near immediately. Doc wants me to administer another shot every day, but I do not do shots. I get light in the head and weak in the knees at the thought of giving a shot to anyone – human or horse. So, she says she will stop by when she is in the area.
Angelina visits. When she first came at the end of June, she said she was definitely up for playing ground-games with the girls. After reading CHASER, the documentary about the Border Collie who learned a thousand proper nouns, in addition to three common noun groups, we decide that Ruby's toys need specific names. So, Angelina and I name the ball and rope that Ruby and I play fetch with Redball. We name the Jolly-Ball BooBoo. I suppose we could have named it Jolly. Other fetch toys are appropriately named Bag, Bottle, Bone, and Spool. This is the first time Angelina has played with Ruby. Ruby gives Redball and BooBoo to me. She gives them to Angelina when I point to Ang and say, "Give it to Ang;" and she puts them in the blue bucket toy bin when we point to that. It is all very cool. Plus, we get another surprise – Zena picks up BooBoo, and then drops it. This is a first for Zena. Sara and Sparky want nothing to do with picking up anything other than hay and grain.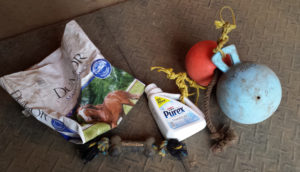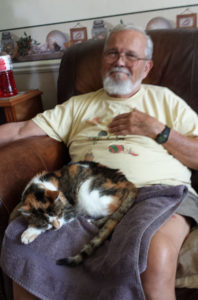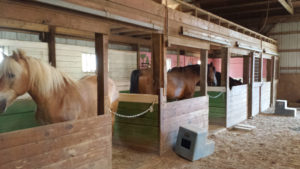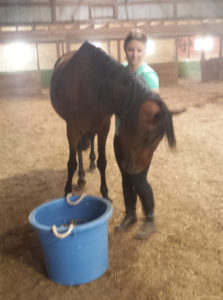 On July 8, I build a new front wall on the first stall – my storage room. I set it back a couple feet to make space to house the winter water tank closer to the spigot; and build it to the ceiling to help keep dust out.
July 9 ~ For the past few years, on the second Sunday of every month, I enjoy brunch at a local restaurant with a half-dozen women who all own horses. A couple of them used to take lessons with me, and the others are friends through them. We are all in our sixties and seventies. But, lately, I find myself making excuses to skip. All of them house their horses at boarding facilities; and their ideology regarding horses is traditional. With each passing month, I find myself having less in common with them; and cannot contribute to their conversations. The chatter about the latest training devices, horse trainers, seminars and clinics, and the general complaints about problems around the boarding barns seem archaic. As I study the horse-conscious community, I am becoming the outsider. When one of the women says, "Well, you know horses are not very smart," I want to challenge that. But, horse owners are strong-minded and it is probably not in my best interest.
In the afternoon, Ava again rides Sparky untethered into the park. Kim rides Sara, and I walk near to Ava. When we reach a grassy area near the part maintenance building, she trots Sparky for a good sixty feet. It is her first open field trot. She is thrilled, and so are Kim and I.
For three weeks out of every summer, I am able to spend full days with my twin granddaughters while my son is at work. Reagan has severe cerebral palsy and is special in her own way. Taylor is a quiet, thoughtful twelve-year-old who plays the flute, is an incredible artist, and loves cats and dogs. They live thirty miles from me. It is truly surprising how little horse-time she has had in twelve years. One would think that a child with a horse-owning grandma would be over all the time. But, her sister's malady and her parents' employments keep the family schedule pretty tight. This week, though, I manage to get them overnight at my place. I do not want to miss the opportunity to get Taylor on Sara, even though the day is hot and muggy. Sara has no interest in leaving the arena to ride in the pens; and it is not Taylor's nature to insist. But, once we are out, she does some nice follow-the-leader around the barrels and poles, and even some trotting. She seems to have a natural seat; if not the confidence to go with it. We head out on the ten and walk all of the trails. She comes back feeling pretty darn good about herself. She plays with Ruby and Redball, and stands on the loading box to lay over Ruby's back. In the quiet of putting the horses out for the evening, she says, "If I had more time here, I bet I could really get to know these horses." I find it interesting that she doesn't say, "I bet I could ride really well." She sees the horses as I see them.
July 14 ~ Angelina comes by for her first trail ride. We head into the park but stay on the road because the deer flies are horrendous. We play games back at the barn and, when she leaves, she takes Vanessa Bee's "3-MINUTE HORSEMANSHIP" with her. She enjoys reading and is looking forward to learning along with the horses.
3-MINUTE HORSEMANSHIP is a book worth buying. The cover suggests that it is for people who have little time to train. But, that is not the case. Bee posits that it takes three minutes for a horse to decide yes or no. She says they have no maybe. And, if they say no, it is because they either are afraid, or they do not understand the request. In which case, the handler needs to break the request down into a chain of smaller tasks. She includes a couple dozen ground exercises, followed by corresponding saddle exercises. It is an excellent read for first time horse handlers; and offers worthy commentary for advanced owners.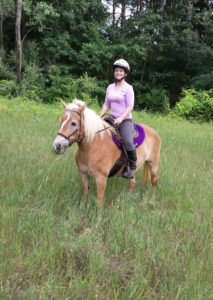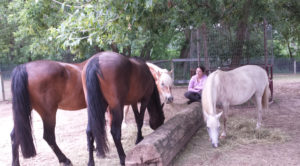 July 17 ~ Last month, I helped re-set fence posts with my friend Connie and her rescue horse. Ollie was a stallion for seventeen years, and was kept in solitary confinement at the show stable where he was used for breeding. Through intentional training, he was high-strung and nervous in the show ring; and was never ridden in a pasture or on a trail. Connie and her daughter, Melissa, took him in, knowing that they would likely never ride him. Melissa grew up showing Arabs, before I knew her; and she worked as an instructor here at Riverbank during a summer, twenty years ago. She was good with my customers and rode really well. But, during the past couple of years, she has endured serious illness and numerous surgeries – losing much weight and muscle. She stops in today to meet my girls and maybe enjoy a short ride. As I help her lift the saddle onto Zena's back, she admits that she almost canceled. But, I know she loves Arabs and Morgans, so I put her up on Zena and we walk all the paths on the ten. She is pleased and plans to return. My horses will be good for her spirit; and her excellent riding skills – which never disappear – will be good for my girls.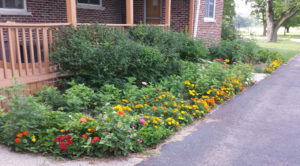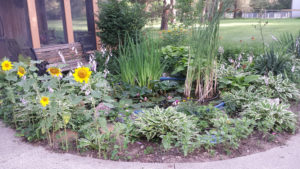 July 19 ~ My farrier comes by to trim hooves, and we decide to do all four girls in the arena. Ruby can watch the first three. Zena's frog is mangled in her front hoof, because of her club foot. The twisted frog has provided an area where a spot of thrush has grown. When I was giving lessons, the schooling horses would have their hooves cleaned once or twice a day. But, in my retirement, I have become remiss.
Ruby gives Bill a hard time with both of her back feet, and Bill says he is too old to put up with that. "You have to take care of this," is what he actually says. When he is finished with all four horses, I ask him to stay long enough to watch Ruby play the "A" game, circle me at liberty, and back for me. Then, we pull out Redball and BooBoo so that she can retrieve them for Bill and me. He is so impressed that he pulls out his cell phone to grab a video. Then, he says, "If she can learn to do this, then she can learn to hold her feet still. It's on you, Colleen." And, he is right. I need to lift and hold her feet every day. I am a horribly inconsistent person.
July 20 ~ Kim and Ava head into the park on Sara and Sparky. I tag along with my bike, so that I can drop it quickly if Ava needs help. It is our plan to meet up with Regina, an old friend who lives on the far side of the park. She worked as an instructor here, too; and is one of the best and most earnest horse handlers I have ever known. She has been a horse-conscious advocate all of her life. I just did not recognize it when she worked for me. We all know the cliché, "When the student is ready, the teacher will arrive." Well, I guess I wasn't ready. Jasper is Regina's seventeen-year-old gelding – an Appaloosa/Saddlebred cross. She has owned him since he was two. We are going to meet-up near the park's playscape. I grab a video of Ava trotting along the grassy area outside the park's maintenance building before we head up a rather steep little hill and through the trees.  Ava wants a picture of her and Sparky near the playground equipment.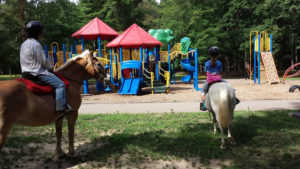 When Regina joins us, we keep our horses at a safe distance from Jasper. When we reach the grassy area by the maintenance building on the way home, Ava wants to trot again. But, we are heading toward home and Sara is ahead of her, so Sparky opts to pick up a lengthy canter – a good sixty feet – with Ava emitting a mild scream (because she is a verbal person) until Sparky drops to a walk near Sara. Ava is thrilled.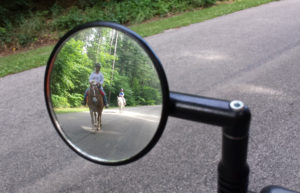 When we reach our place, Regina puts Jasper in the round pen, where he prances to impress the girls. He is just plain excited because he lives by himself and has not seen a horse in a good year. Zena and Ruby are in the west pen, closest to Jasper, and show mild interest. I am surprised that Ruby is not going bonkers. Zena soon returns to her hay. Maybe, they are just sane women. I have not seen Regina in a good long spell, and our visit is a good one.
In the late afternoon, I attend a by-invitation-only "Michigan horse marketing initiative" meeting at Michigan State University. I am guessing my name was added to the list by a MSU equine sciences instructor who holds offices in a number of national horse associations. We have visited often about my American Association of Riding Schools project. She is not aware that I have chosen to give up on the industry. I have doubts that this group would admit the real reasons the horse industry is shrinking; but decide out of curiosity to at least attend the first meeting. I am always hoping that there will be a way to move the traditional industry in the direction of the horse conscious community. Sure enough, attendees include representatives from Farm Bureau. Farm Bureau is one of the most anti-Humane Society (and anti-EPA) organizations in the nation. It is hard to imagine how progressive farmers could be at odds with protecting animals and the environment – but they are.  Also present are representatives from the university's equine sciences program, the Michigan Horse Council, Michigan Reining Assoc., etc. When we do a go-around introduction, a couple people seem impressed with the number of years I have offered lessons to non-horse-owning beginners; and the number of Girl Scouts I have served. Twice, the chair, a retired MSU veterinary professor, agrees with me during discussions. A young MSU rep suggests that people are not leaving the industry; rather they are "moving up" into other industry organizations. But, the chair disagrees and says my take on the problem is more realistic. He describes a survey that the new CEO of the national Arabian association threw up on the internet. In two weeks time, he received a hundred thousand survey responses: Yes, the respondents would be interested in learning more about horses. And, a surprise to the group but not to me: one-hundred-percent of them said they were not interested in showing or competition. With each passing year, people are becoming more interested in authentic relationships with their animals. If the industry does not move toward horse consciousness, and the idea that horses are companion animals – not livestock – it's following will continue to dwindle. I will attend next month's meeting and see where this goes. As I leave, a snap a photo of a few of the equine program's broodmares and foals.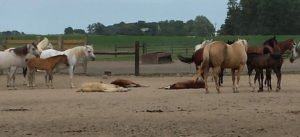 Kim and I have time for a longer ride today. She on Zena and I on Sara, we ride the north river trail from the tennis courts to the fishing parking lot. We try to find a designated horse path out to Irish Road but get lost in the brush as the path disappears. Zena wears a fly mask today, and Sara has a white repellent cloth tucked under her crown piece. This is in addition to heavy fly spraying before heading out. Kim and I are wearing deer fly strips on the tops of our helmets. Zena is up for a good deal of trotting; and Sara and I even canter a meager thirty feet or so. I have not cantered in the open field in years! It is a truly wonderful ride. When we return, we drag the hose onto the lawn very near to Ruby's fence, and hose Zena and Sara. Ruby watches and catches a little of the spray.
When I return to the house, Gary suggests that Caramel's time has come. We have been pondering this for months. Now, she is so incredibly frail that walking even a short distance is a painful ordeal.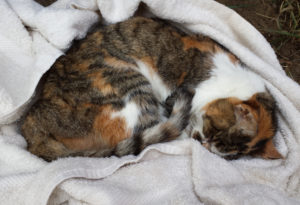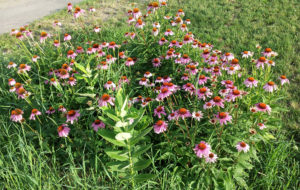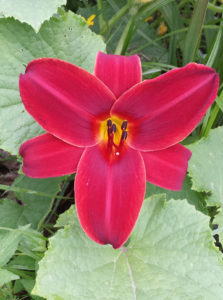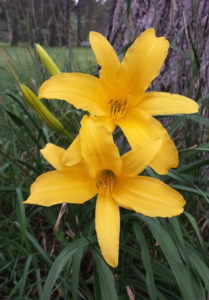 July 23 ~ Today is a WONDERFUL day with Ruby. After grooming in the tack room, I hold her feet to the count of ten. We head out the trail door to graze. Over the next twenty minutes, we wander around the parking lot, through the pines, and a short distance down the path; where we enjoy grazing for a good ten minutes. She is comfortable alone with me and I am thrilled.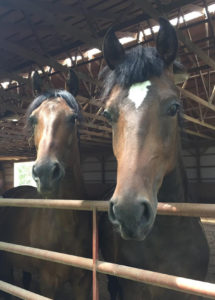 July 24 ~ This morning, I clean and hold Ruby's feet to the count of eleven. We head outside to graze, but it is too windy to ask her to walk out back. Instead, we spend a little time grazing in front of the drive gate where she is just a tiny bit closer to passing cars – still a couple hundred feet. Afterward, I clear scrub brush from around the round pen. I like this kind of work. In the evening, I hold Ruby's feet in her stall to the count of twelve.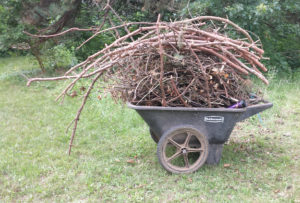 July 25 ~ Ruby lifts her legs in her stall to the count of thirteen and fourteen today. I am tired of the dust in the arena. The sand is so old that it has broken down to a powder. So, I have ordered a twenty-two-yard dump of wood chips and sawdust. The driver drops piles around the arena.
Last fall, I told Ava that, if she wanted to open field ride in the spring, she would have to stop begging to ride the big horses and spend more with Sparky. I said Sparky needed someone who considered her special. Earlier this spring, Kim heard Ava tell a friend that she saved Sparky. Today, she grooms, but I am not sure that Sparky feels saved. Less lonely, yes, I think. She and Kim enjoy a mini-ride on the back ten.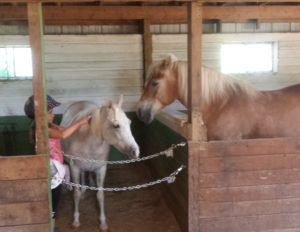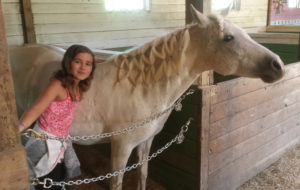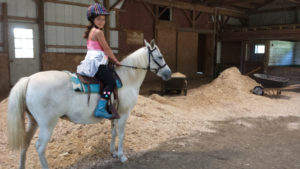 July 26 ~ Ruby lifts her legs today to the count of fifteen and sixteen.
July 27 ~ It is raining just enough to keep us from trail riding, so Kim and I spend the day retro-fitting Zena's stall. We put bathroom shower liner on the top of the back wall, cutting a hole for the window; and chipboard around the bottom. We are quite pleased with ourselves.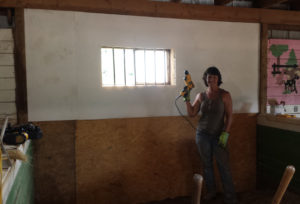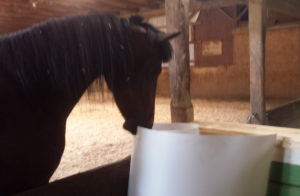 Angelina arrives at four with a typed summary of the first four tasks from Vanessa Bee's 3-MINUTE HORSEMANSHIP: (1) being still with your horse; (2) knowing your horse's personal space; (3) knowing your own personal space; and (4) shaking hands. She admits that she is a little intimidated with Ruby, so we put a flake of hay and a chair in Ruby's large stall. Ang sits with Ruby until she feels comfortable (and until Ruby gets bored with her and wanders off to the other end of the stall).
Ang has already finished reading BEAUTIFUL JIM KEY. This is a testimony to her interest in learning because JIM KEY is a documentary with a lot of detail. We do not play the alphabet game; but I will make more "A's" before next Thursday. We bring Ruby into the arena and pick up her four feet to the count of seventeen. This is the first time I have picked up her feet at liberty in the open. She wanders off on her own to the mounting block, so I put a blue mounting step on top of it – for short Ang – and have her lay over Ruby's back with treats. Ang has no problem with putting a fair amount of her weight on Ruby; and Ruby has no problem sharing her back with a second person. We put Redball on top of a flipped-over hay tub and sit Ang in a chair thirty feet away. We ask Ruby to pick up Redball and give it to Ang. At first she insists on giving it to me but, by the third try, she takes it to Ang. We then put Redball away and bring out BooBoo; and repeat the process. Finally, we bring them out together and ask Ruby to pick up BooBoo. She picks up Redball and I say, oops, my word for a mistake. We manage to get her to pick up BooBoo and take it to Ang, but she is getting bored with the task, so we put them away. We cover Ruby with a bed comforter. Then, we bring out Zena and cover her with a star-patterned blanket; and Sparky with a navy cooler. Sara will have nothing to do with my putting a white canvas tarp on her back. It is not like she has never worn a winter blanket. But, she hasn't in years – and now she is at liberty.
July 28 ~ When Andy brings his wife, Amy, and Taylor over for dinner, he wants to see how much Ruby has grown since his last visit. When Ruby fetches her ball and, on request, gives it to Andy, he says, "I AM IMPRESSED!" Taylor walks to the loading box, asking Ruby to follow. Ruby sidles up close as Taylor gives her treats over her back. Andy is again impressed with Ruby's interactions at liberty. I hold Taylor off the ground by her knees so she can reach further over Ruby's back. It was so good to have them in the barn. I ache to have them spend time with me.
The month ends with Gary helping me finish off the re-build on the stalls; before I start painting. It has been a VERY good month.