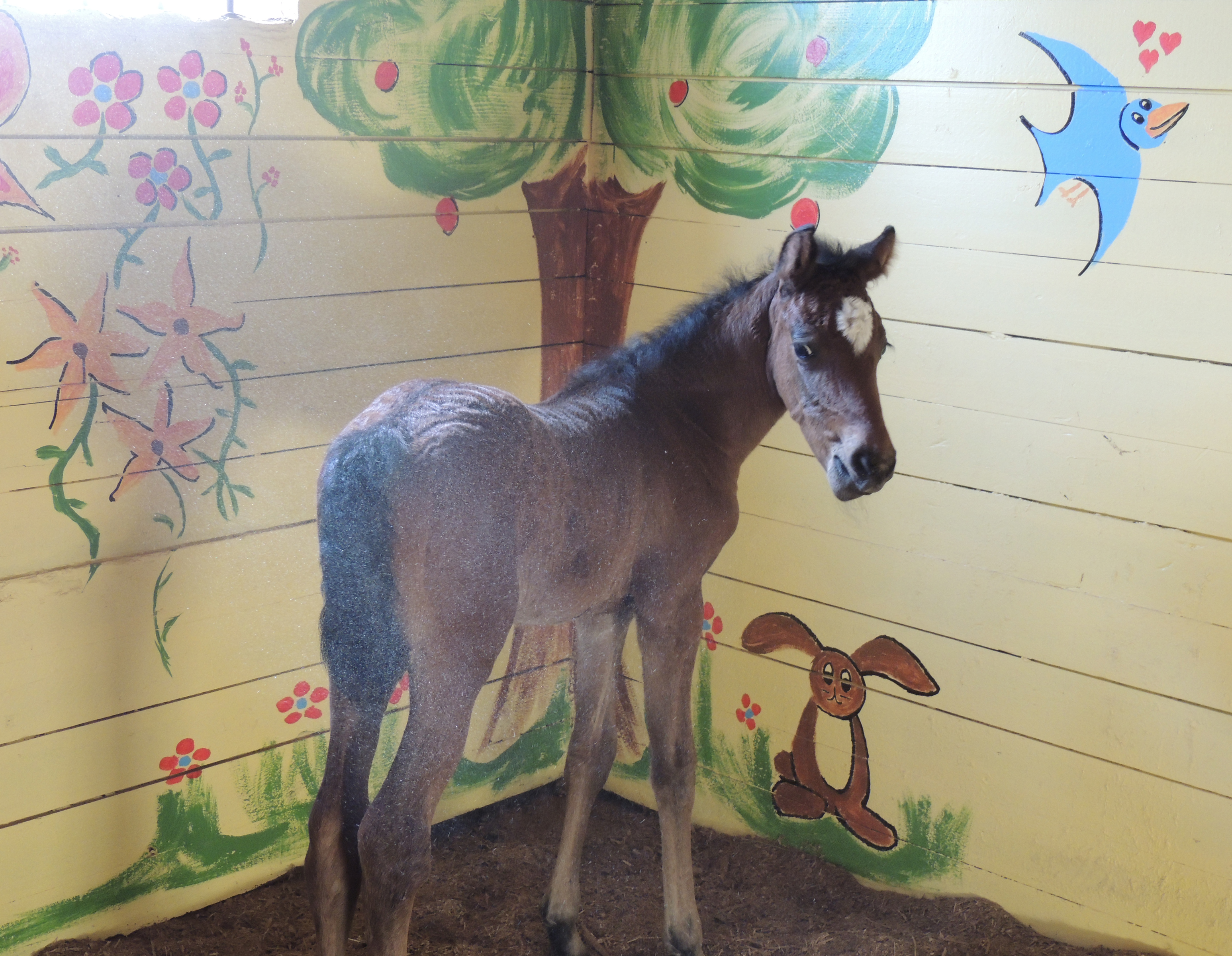 "In man's quest for the best of the best, only a few horses will run the fastest, jump the highest, or prance the fanciest. Those who are not 'good enough,' or who become physically or emotionally spent, do not deserve to die in a slaughter house. Every birth should be a planned birth with an intended life-long home. Support an end to the routine breeding and slaughter of horses."
Colleen Pace, 2015
RubyRoo, We Love You
As an introduction, I came from the traditional horseman's background where I bred, raised, and saddle trained five foals. When I rescued Zena, it was with the intention that I would raise her baby differently than I had the other, with advice from the horse conscious community. Already, it has not been as easy as I had hoped. For starters, it has been fifteen years since I raised my last foal; and Ruby is by far the most ambitious of them all. Although I have always considered myself a benevolent horse handler, and surely am by most horse training standards, I have had to learn that many of my past behaviors bordered on domination and/or defensiveness. I suppose they are one and the same. It has been surprisingly hard to drain those knee-jerk reactions from my subconscious. I have sought, and continue to seek, advice and support from a variety of sources. Now, you will have the opportunity to add your two cents worth. Join me as I document our growth together.
Why I Decided to Rescue
December 2014 ~ As the owner of a now-retired riding school, I have cared for more horses at my home than I can count. They came to me as schooling mounts - mostly mares. I like mares. Many, I re-homed with permanent families because that is what they wanted. A horse can tell you whether they enjoy offering lessons. Two went to homes where I did not know their caretakers well; and I feel poorly about that. Stormy, Fancy, Pasghetti, Pony Express, and Buffy are buried around my barn and under my riding rings - close to me. Missy was cremated at Michigan State University after having died here, because the backhoe could not get here quickly enough to dig a hole. For me, each and every one of those thirty-or-so horses was a whole person. I suspect that they thought they were, too.
Having owned and cared for so many horses, I cannot say that I have not had enough horse. Still, I felt an empty place in my heart as my sixty-second year drew to a close. My schooling program was five-years retired. The comings and goings of mostly women and girls no longer filled my hours, my ears, and my attention. Maybe, I was just suffering a huge empty nest syndrome. My own children are grown and, at least on a daily basis, are gone. With their schedules what they are, I just do not get enough of the grand-kids.
I still have Sara and Sparky. They are both fifteen and I believe they are happy that riding lessons are in their past. Sara, my golden Haflinger mare, is my trail pony. She is good for that - short enough for a slower-than-she-used-to-be woman to mount and dismount; and broad enough to offer a smooth, low jog. Sparky, my twelve-hand very light gray Arab/Shetland cross still offers a pony ride every now and then. They are both good women. I consider them close friends. When I brought Sara home, I said she would be my last. If she were to live to thirty, I would be seventy-seven. One would think that would do. Still, for a reason not yet known, or maybe only partly known, I found myself on the website for a rescue group - Forever Morgans.
I have read hundreds of books - many dozens of them horse books. My tombstone, if I were to have one, which I will not, would read, "I've got a book for you..." But, a few years ago, I was so moved by the documentary about a horse named Beautiful Jim Key, written by Mim Eichler Rivas, that I actually decided to visit Beautiful Jim's grave near Shelbyville, Tennessee, during a recent trip south. My husband thought it would be impossible to find but, with what reference was offered in the text, and the help of MapQuest, we managed. if you've not read the book, I highly recommend it. Beautiful Jim Key left me wondering how I could own horses for four decades, offer lessons that sent kids into state championships, consider each horse a friend, and yet so sorely underestimate them. I have always thought there is a person inside every animal, and I often suggested that my students communicate with their horse as if he were a sixth grader. Even still, I was missing the wholeness of the them.
Many other horse owners have said that they find me surprisingly well-versed in general horsemanship, and in the state of the U.S. horse industry. But, that book made me realize I still had another train to catch. Maybe, I would raise just one more baby. I had watched the U.S. horse industry - worldwide for that matter - begin to transition over my lifetime. Like all social progress, it moves forward in spits and sputters, with great controversy and much conflict, until it reaches a tipping point. The floodgate opens, people change, society advances. They say you cannot teach an old dog new tricks, but I am seeing other horse professionals grow and change. Considering how much I love my horses, surely I can, too.
I know that all horses are good horses, but I have an affinity for Morgans. So, there I was, browsing the Forever Morgans website. Scrolling the page, I happened upon a mare who had been born at an Ohio show barn, but had suffered either a left hip or pastern (ankle) injury. When she did not compete well, she passed briefly through another owner before being sold to an Amish fellow who drove her until her leg gave out. How anyone could consign a horse with an afflicted leg to a home where surely she would be incessantly driven on blacktop, I do not know. With her useless as a buggy horse, he put her to pasture and took one baby from her. She then field bred with a young mostly Morgan colt but, when the forecast called for a particularly harsh winter, her owner opted to rid himself of her. Auctions and slaughter houses are out-of-sight, out-of-mind destinations for selling cheap instead of euthanizing. Why pay three hundred when one can get five hundred? Zena and I happened to be on the forever Morgans website on the same day.
Start at the beginning . . .
If Forever Morgans had not rescued Zena from the kill pens, her unborn foal would have been hosed off the slaughter room floor. Read Ruby's story from the beginning by clicking this button; and then follow RAISING ZENA'S FOAL in my BLOG.
Your comments are welcomed and encouraged
Disclosure - Some of the services recommended on this website provide compensation to ahorseinmyhouse.com. All recommendations are based foremost upon an honest belief that the product, service, or site will benefit my site visitors in some way. Read the full Compensation Disclosure for more details.