I think that I have already managed more trail rides this spring than during all of last summer. Kim and Sara, and I and Zena, welcome the first of June with a long and beautiful ride. As on our last ride, I let Zena choose where and when she wants to pick up her trot, or fall back into a walk. When I adopted her, six months pregnant from Forever Morgans, they cautioned that she may never be able to trot painlessly. The hip and/or pastern injury that took her from the show ring at three was exacerbated when her owner opted to sell her into the Amish market. An additional six months trotting a buggy on blacktop roads sent her lame to pasture. Two foals later, she is in my barn, looking for a decent forever home. That was a year and a half ago. She has pretty much been on lay-up, birthing and nursing Ruby, while absorbing a pelleted joint supplement. I will let her tell me whether she wants to trot. She clearly remembers where we have grazed in the recent past. But, today, Kim and I pick a different field.
When we return home, we take Sparky and Ruby out for a lead-line walk around the ten. I have a twelve-foot lead on Ruby, which is good because, not far past the east pen, through the pine arch where the path opens up a bit, Ruby races from my hands. But, then, she does nothing. She just does not want to be held. I pick up the rope and we continue. Twice more, she is difficult but, each time, I am able hold until she settles down. Kim calls, "Don't get your self hurt!" But, I have greater confidence in my relationship with Ruby now – and greater expectations for her. Maybe – I am not one hundred percent confident – but I am getting there. We walk two-thirds of the way back before deciding that is far enough. When we turn, I am thinking she may bolt – but she remains with me. I let her graze sparingly along the path, and I ask her to stop often for a small treat. We walk nicely all the way back to the arena.
It is the second of June. I begin a play-game routine with the girls. I am so not good at sticking to routines. I stand outside each stall and ask each horse to come willingly into her halter – treating when she does. It takes Sara three full minutes before she quietly acquiesces. I bring them from their stalls one-by-one – Sparky, Sara, Zena, Ruby – to play the "A" game. We have not played this in weeks, but Sara gets it perfect and Ruby misses just one. Sparky remains clueless. We walk the perimeter of the arena counter-clockwise, asking for a stop at each corner, and halfway along the long wall. This is, of course, old, old hat for the others, but I want Ruby to watch. Ruby is last and behaves perfectly. We repeat the exercise in reverse – clockwise with me leading from the right. Again, Ruby is perfect. I finish by bringing each out to bow, with my simply holding their left front foot off the ground. Sara does best. Ruby still does not go down as far as she did before having her western saddle buck-up. I wonder if that right knee is still store. But, she canters beautifully so I am not too concerned.
June 3 ~ I will be driving this morning with my sister, Carol, to collect her son, Dylan, from the airport. He has returned from his African adventure via his studies at Michigan State. It was my plan to rise early to play with the girls but, alas, I did not. Now, I have time only to feed and pick. When I return, I find the Morgans standing quietly in the cool of the arena while Sara and Sparky are eating hay outside. Eating, eating. Sara and Sparky never stop eating. I fly wipe all of their heads before putting them out. Sara and Sparky walk to the evening hay in the back pen, while I sneak a couple extra flakes inside the arena for Zena and Ruby. I am hoping the two S's will not notice and push them off.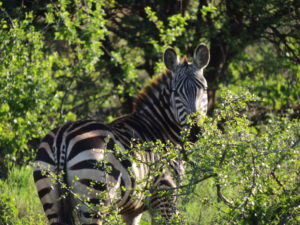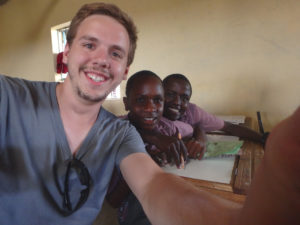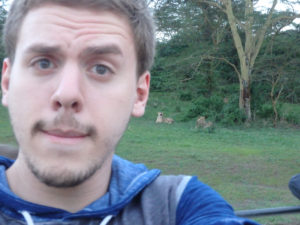 On June 4, Ruby and I play the "A" game, I ask her to stay, circle on a twelve-foot lead, and bow. Her right knee remains tender.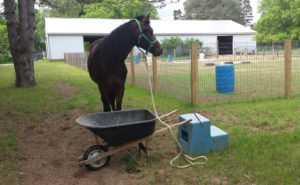 June 6 ~ Kim and I enjoy our second trail ride this week. For whatever reasons, over the past couple – or few – years, I was lucky to manage a ride just every two or three weeks. Is my life slowing down? If so, is that good? I am surely enjoying my time on the trails.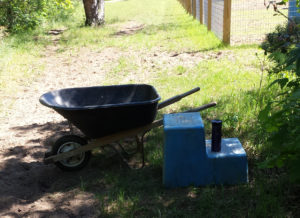 June 10 ~ I have secured a cabin on a small private lake in northern Michigan – Up North as we Michiganders call it – for a relaxing week away. Seems silly because I already live in the Garden of Eden; but I remind myself that the world is larger than my own backyard. Gary and I will spend a couple days alone before his oldest boy, Steve and Leah, arrive. The last days will be shared with Andy and Amy, and my granddaughter Taylor.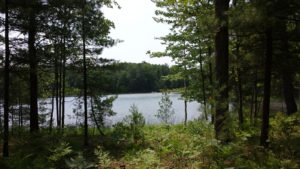 June 19 ~ Kim and I hit the trails as soon as I return home. Summer is setting in and life is good.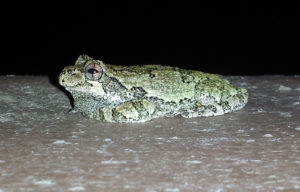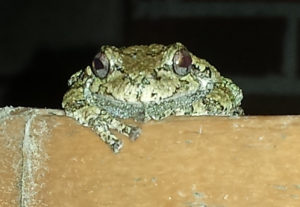 The very next morning, Kim and I ride out again. Angelina Davidek visits in the afternoon. This is a real gift. Angelina rode with me when she was twelve, almost two decades ago. She has grown, and married, and has decided that she once again needs to be around horses. An on-line search suggested that my Riverbank Farm was closed; but she ventured an e-mail to ask for a referral. I could not pass up a visit with a former student and here she is, now. Let's see where her interests lay.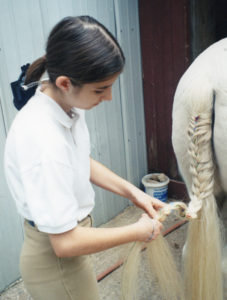 To top off the day, Amanda Richard, who while completing her university degree in psychology at the University of Michigan-Flint, is volunteering with the local Big Brothers / Big Sisters organization. She brings her "little sister" for a ride on Sara.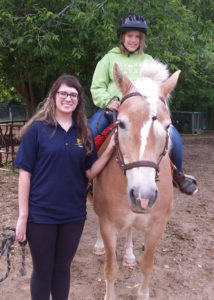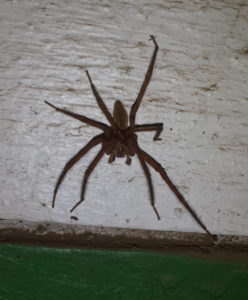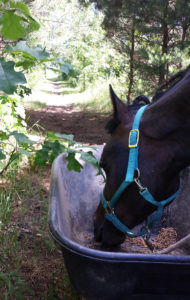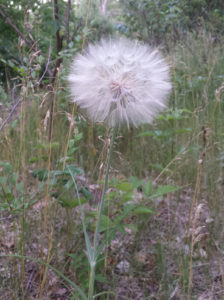 June 22 ~ My long-time friend Carolyn arrives from Florida to spend a few days. What a wonderful "old friends" week. Carolyn's daughter, Kerry, is an equine vet who worked for Doc Jim years ago. Carolyn moved from California to care for Kerry's first baby. While standing in my barn, stitching a horse's ear, Kerry said, "You need to meet my mother. Would you please give her a call and invite her to lunch?" When I asked, why me, in so many words she said that we were both old. Well, Carolyn and I became extremely close during the years that that baby, and a second one, grew through elementary school. But, Kerry has since gone off to perform livestock inspections for the USDA – what a tough job – and Carolyn has moved to Florida to care for her ailing husband. She has a great deal of past horse experience, but has not ridden in decades. At seventy-five, she is determined to ride Sara while in town. But, after spending a little time in the barn, she realizes that she is simply no longer strong enough, or steady enough, to mount a horse. Instead, we spend an entire day lopping plants along the paths, all around the back ten. It is a truly enjoyable day.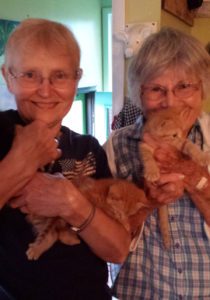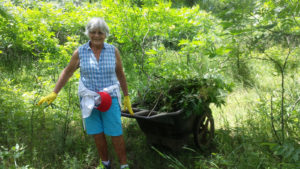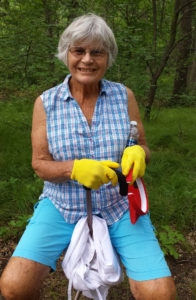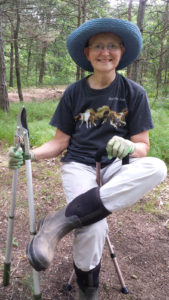 June 25 ~ I hate to admit that I have not been doing much with Ruby lately; but this is a great month for girl-friending. Connie lives just two miles from me and owns, Ollie, the most beautiful little Arabian gelding. I know it is hard to say that any one Arab is the most beautiful – Arabs are called "the artist's horse." But, Ollie is a bright chestnut with a blaze and four white socks. He is a storybook horse. Connie raised her two daughters on the Arabian show circuit. When Melissa "adopted" Ollie out of a show barn at the age of seventeen, he had never stepped on grass. You heard me right. Never stepped on grass! It took months for him to have the confidence to step out of his box stall without being on a lead. And, after living with Connie for years, he still by choice spends most of his time in his stall. His small grassy pen is enclosed by the flimsiest of field fencing that would never hold an ordinary horse. Now, a couple of posts have rotted away and I am heading over with my small gasoline powered post-hole digger to help her replace them.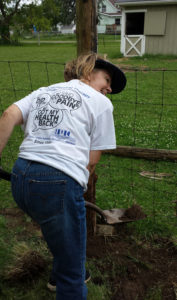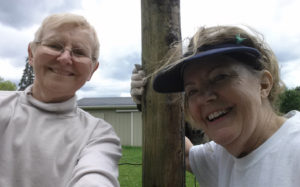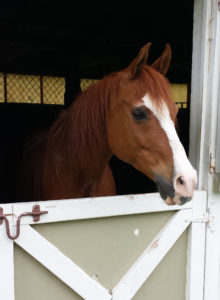 I am abandoning my girls again! This is hard. Before my sister's husband discovered cancer, she had asked whether I would go to Las Vegas. Her husband was not a traveler, and while owning a beauty salon and raising five kids, she had little opportunity. Soon after his funeral, she took a breath and said, "I think I am ready for that trip." I have no real interest in The Strip, but she is open to seeing the Grand Canyon, and I am open to spending time with her. I will not return until after the first of July.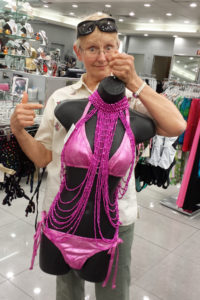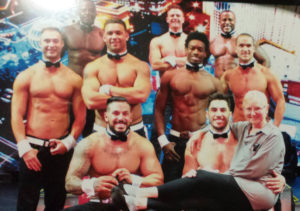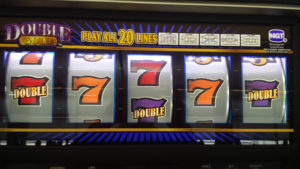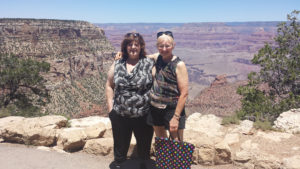 So far from my girls. See you next month.