It is the first of March and my "rhyming" niece-Denise visits. She took lessons here back in the 1980's but, other than for sporadic riding opportunities, marriage and children have kept her away. She has not been on a horse in two years, and has not seen Ruby since she was just a few months old. It is a warm and moist 50-degrees; with the weatherman warning that we will suffer a 30-degree snow storm by 2:00P.  I saddle Zena and help Denise onto the old Abetta; telling her to just sit quiet. I know that Zena will not move unless her rider surely asks. I saddle Sara and, as I lead her around the arena to ease her cinch, Denise and Zena follow. After mounting, we play walking-follow-the-leader in the arena and all around the pens. When Denise is comfortable with Zena, we walk all the little paths on the back ten; commenting to each other about how blessed we are to grab this peaceful morning. We plan to meet again on March 10.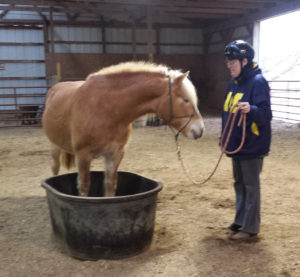 I abandon my girls on the second, opting instead to spend the day with my sister. She cuts my hair, we go to a movie, and enjoy lunch out. During her husband's hospice, I loaned him a family-shared wheelchair and bought him some consumable medical supplies. She returns everything to me; wanting all of the negative out of her house.
Today is Friday. It is only 25-degrees, but we are promised it will be near 60 on Monday. My friend and neighbor, Wende, visits the horses this morning; and we spend good time sitting in the tack room as Ruby munches hay. Over warm cups of coffee, we have a maniacal conversation, bouncing from one topic to another, returning often to a discussion of language acquisition in humans and animals. Wende has much academic knowledge in this area and decides she wants to work on my Ruby alphabet project. We agree to meet tomorrow morning at 7:30. We appreciate that tack room is heated because it is supposed to be just 11-degrees.
March 4 and freezing – a mere 10-degrees when Wende arrives. She admits that she considered canceling; and I admit that I considered texting her with the option. She is surprised that the horses intimidate her because, she says, she was comfortable around horses as a kid. And, her home, now, is populated with five big rescue dogs – four of which were considered un-rescue-able. I ponder how many women lose their confidence in any number of small ways after passing through puberty.
It is in the high 20's on March 5. Wende and I joke about it being balmy. She sits alone in the tack room with Ruby; while I put the hay and other girls out, and pick the arena. When I return, I find them adjusting well. With no grain or other diversion other than Wende standing near, Ruby lets me pick all four feet. Good girl. I give Wende a copy of the documentary book, "Beautiful Jim Key."
March 6 proves to be a mild morning. Wende is hesitant to walk into the arena with the horses wandering loose. Once in their stalls, she is slow to get the treat to their mouths. She comes into Ruby's stall with me, and helps to slide the halter over Ruby's head – but becomes intimidated when we bring her out of the stall. Ruby wants to mess with Wendy. She would rather stand and play mouth games. So much so, that Wende decides she does not want to be left only in the tack room with her today. As a trio, though, we enjoy a good long sit while Ruby eats, and Wende grooms her for the first time. Ruby spends a surprising amount of time investigating the wall-mounted space heater. I think she likes the warmth.
I am thinking that working with Sara will be good for Wende. She says, "But, I will let you lead her." I assure her that a four-year-old can lead Sara around the arena." So, Wende does that and Sara is Sara – very good. In the tack room, I sit on a chair with Sara's lead, and Wende brushes for a long time. Out in the pens, it is warm enough to have thawed last week's manure so, after putting hay out and releasing the girls, we pick both the inside arena and outdoor pens. We each have a manure pick and Wende has the switch. This gives her an opportunity to hold her own with Ruby and, for the first time, Wende really interacts with her – reading her face and responding with conversation. By the time we are finished, Wende can hold her ground and ask Ruby to stand quietly outside her personal space. I show her how to use the switch to quietly drive Ruby around the other horses. It is a worthy morning, and Wende goes home feeling very good about herself and the girls.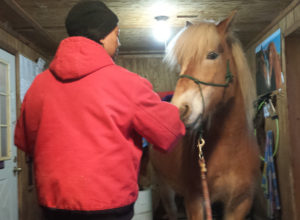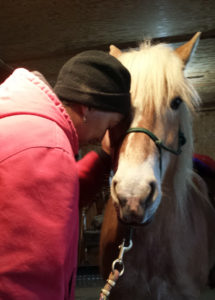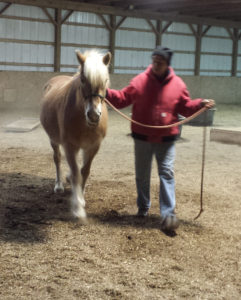 Wende cannot visit the following day, but I hang a series of "A" and blank cards over the half-wall for the first time; and walk each of the four horses past them – asking them to touch "A." It is my goal for them to be able to tell the difference between the two.
March 8 ~ Wende and I have a very enjoyable morning in the barn. It is nice to have a friend around. We play "A's and blanks" with each of the four horses. Wende halters each on her own.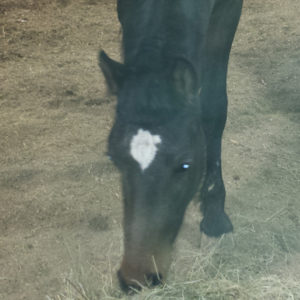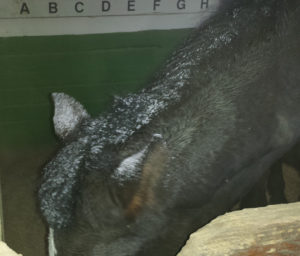 I have been away from journaling for better than a week. It has been particularly cold in the mornings and windy during the days; so I have not spent much time in the barn. Wende and I have played "A's-and-blanks" with all four girls twice more; and I have done it once on my own. The last time, Sara was spot on. Not sure, but it really appeared like she looked at the blank cards and chose to move past them. Maybe, she moved past them because something in my own demeanor sent a message. The last two mornings, it has been so cold that Wende opted out. I just run out to feed and come right back in. Today, it has struggled all the way up to twenty. Mother Nature is making up for our warm February! Fortunate for me, I left the heater on low last night and the tack room is near fifty. Ruby spends a good amount of time in there, eating her grain, some hay, and playing around the saddle racks. I put a western saddle on her and take a video. I spray her tail well with detangler and work it through with my fingers. After removing her saddle, I return to the arena and gather my barrow and pick, expecting her to head outside with the others. But, she wants to play fetch. Today, for the first time, not only does she give the ball to me, but she also puts it where I ask – first in a hay tub and then in the barrow. I am very impressed. Tickled pink, actually. When I toss the ball such that it accidentally bangs up against a pipe-iron gate, she skedaddles out of the arena. I finish picking, put the barrow and fork away, and head toward the tack room. But, as I near, a head peeks out from the causeway! While I was busy picking, Ruby came back in and tucked herself away. Now, she wants to play. But, my fingers are FREEZING! Still, I decide to initiate a mirroring game that is supposed to head her in the direction of laying down for me. Each time she mimics my movement, she gets a treat. I turn to the left and she does, too. I turn to the right (into her head and neck) – but she doesn't get it. She walks to the wall and touches where the A's were on a previous day. Oops. After two tries, she is back on track and I can turn her to the right. It is clear she is open to circling me – a task we have done in the past. She is thinking. I cannot get her to back alongside me, so I work on picking up a foot. I raise mine high and ask her to pick hers up. In six tries, we get a really good, conscientious mimic.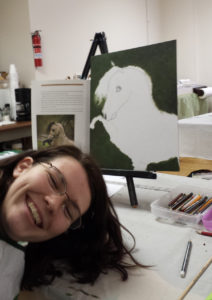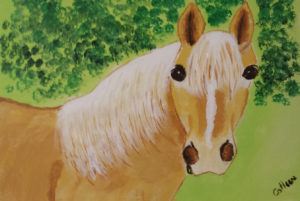 March 20 ~ Wende and I have played the "A's and blanks" game with all four girls over the last couple of days. Sara got a perfect round and we got it on video. Today, the morning is mild but Wende is not available. I groom all four girls and clean 16 hooves – including Ruby's back right. She had been obstinate about that one twice this week. Each time, I stopped the session and put her back in her stall without a treat. There it is again…. How many trainers – including me – would say that was not the thing to do – that putting a horse away is exactly what they want. But, Ruby likes interaction. She likes interaction with me. Today, she lets me clean that foot – twice! We all play the "A's and blanks" game and, for the first time, I ask Sara to play it a second time – this time, off the lead. She is torn between playing the game in hopes of treats, and going to see whether there is hay outside – which there is not. She starts out and then comes back to me twice. I give her treats for identifying two A's, but she also touches blanks.
This evening, the weather is incredibly mild. Gary and I take a super-slow walk around the ten. Skipper wanders wherever his nose take him. When we return, I put the hay out, and the girls. Instead of going out, Ruby follow me down to the manure gate and, then, lifts her front leg for me! She wants to play for treats and, my, did she ever learn that one quickly! I tell her I will play but, first, I need to get treats. She follows me to the causeway door but, while I am getting the treats, she loses faith in me and wanders back to the pens. When I finish my picking, I sit on the big log and enjoy the evening with them. It is my first pen sit this spring!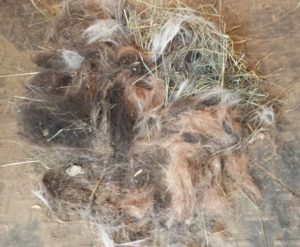 I spend the weekend of March 24 in Spring Arbor, four hours north, near the Mackinaw Bridge – that separates Michigan's lower mitten from her upper peninsula – with my northern Michigan friend, Judy. You may remember that Judy's mare, Allie, spent the winter, a year ago, here with my horses. We attend Sharon Wilsie's HORSE SPEAK clinic at the Rising Hope Riding Center. It was helpful to have read her book ahead of time. Judy and I both observe a number of "a-hah" moments throughout the clinic.
As stated in her book, Wilsie describes how horses use their breathing to communicate. The Greeting Breath is comprised of huffing "three breaths toward another horse from a distance, with an extended out-breath on the last." The Beckoning Breath is comprised of a "subtle nostril gesture that accompanies this deliberate breathing: the nostrils widen and the horse breathes softly." The "I am Interested Breath" includes "short intakes of breath to indicate interest." I will need to pay closer attention to my girls. The Nurturing Breath is an inward sniff or snort." Anyone who has been around mares with foals has heard that one. The Relaxing Breath is "a long, soft, blowing out." Yes, I know that one. And, the "big sigh is Agreement." Yes, I know that one, too.
There is much in Wilsie's book with which I am already familiar simply because I have been around horses for fifty years. But, it is nice to know there are new things to learn. I found her commentary on "rocking together" both interesting and useful. And, since reading her book, I have "scanned the horizon" – especially with Zena and Ruby – often. They are both scanners – much more than Sara or Sparky. Similar to what I have been reading in James French's Trust-Technique program, Wilsie advocates going to O (Oh) – what French calls zero. The "Oh" refers to standing quietly with your hands clasped in front of you, elbows slightly out, to form an "Oh." Zero refers to stillness of mind – emotional zero. Wilsie stands in an "Oh" and goes to zero. French goes to zero while standing in "Oh." I get it. But, I have to do it. Brain-busy. Everything piled all over my desk and credenza is a metaphor for everything piled inside my head. "Oh." "Zero."
Wilsie offers an extensive section on understanding how to "push your horse's buttons." It is thought-provoking that this is the phrase we use when we describe how people irritate us – "he just knows how to push my buttons!" Wilsie is referring to (many) specific physical points on the horses body; while humans are referring to emotional trigger-points. Wilsie says, "the more you ask any button to yield to you, the higher ranking you gain within the herd." Her discussion of "sending with the hip-drive button" is similar to Carolyn Resnick's driving from behind. And, her discussion about subliminal conversations taking place while circling or longing on-line and at-liberty offers new and valuable insights. All-in-all, her book is a worthy read for advanced horse handlers who are open to considering insight from a forward-thinking woman. For, absolute beginners, it is a god-send – like actually understanding Spanish before meeting your first Spanish-speaking friend!
It is March 26. Kim and I head out for our first trail ride of the spring. Sara and I have already been in the park because we rode along with Gary's bicycle. But, Zena has not been out in the park since late autumn. As much as Kim likes Zena, I suggest that she take Sara. It is a good thing because it is just a teeny bit windy, and Zena is quite beside herself; even just on the back ten. She pulls, she dances, she hops, and even bucks a little on the back end. Kim is quick to say that she is surely glad she is not aboard. I am actually surprised that I am not more uncomfortable with the ride than I am; because I am not a hugely ambitious rider. It surely must be because I know and trust Zena.
Just two days have passed, and I am out on the trail again. My niece-Denise, Kim, and I share a truly pleasant day. Denise has only ridden Sara one other time, and that was a couple of years ago. But, need I say, Sara was good for her.