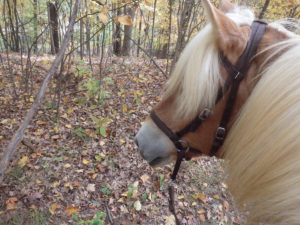 Heading into October, Ruby halters perfectly well. Kim brings seven-year-old Ava, who trots on Sparky for the first time. She is on the longe line (pronounced lunge), but thrilled just the same. Kim and I lead and groom Ruby and tie her lightly to the wall again, for just a couple minutes.
Two days later, Ruby stands for a good grooming. She lets me lift all four feet, but I don't pick them. The horses graze on the lawn while we continue to sort and clear old fence boards. Kim comes by and saddles Zena, but Zena is lame under saddle. She's been on lay-up for eleven months - since she left her Amish buggy-driving owner. Forever Morgans had said there would be a chance that she would always favor that leg.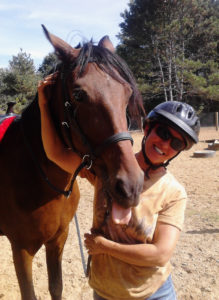 I take the opportunity of having Kim at the barn to clean Ruby's feet. Look at her long legs!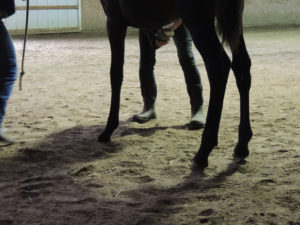 In the morning, Gary offers to hold Ruby while I groom her; but Ruby does not behave well. I am sure she senses that we are on a time line. We are not really - but Gary has not studied James French's Trust-Technique. He does not realize that Ruby can sense that he has other things to do. It is not like he is rushing me. There is just a "task-orientation" in the air. I have always been incredibly task-oriented. I have learned that some of my frustrations with Ruby's behavior is the result of my being too task-oriented.
Gary offers to help again the next day, and I appreciate his effort. This time, though, even I find it difficult to relax as I groom. I just cannot clear my head and listen to my breathing when Gary is standing there. For some of you, this probably tells you something about me - how I was raised and what I've carried into adulthood. Gary offers to lead Zena in the arena while I follow with Ruby. In the evening, I lay the lead over my arm and groom Ruby on my own. She stands still enough.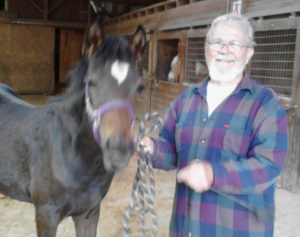 The next morning, I am able to lead Ruby and pet her all over. Kim feeds for me in the evening, and spends time just sitting with the girls while they eat their hay. "Precious girls!!!" is what she writes on the feed chart.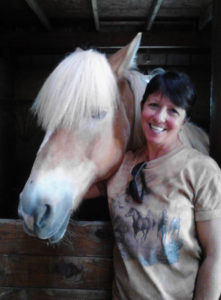 October 11 is a big day, but not with regard to Ruby. Ava trots Sparky in the western saddle—no longe line attached - for the first time; and she rides Sara bareback in the outside pen alone for the first time. A doubly big day for her. I wish I had a photo to share.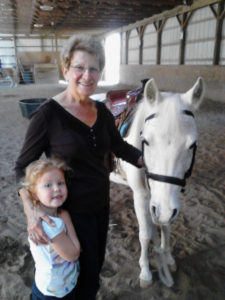 Our oldest son, Steve, stops by to introduce his new, old girlfriend. They dated when they were nineteen and now, at near fifty, they have re-united. Low and behold, she has just purchased a seventeen-acre farm just three miles from us and has a Haflinger and a Shetland pony! Good going, Steve.
The next day is equally wonderful. It is a gorgeous morning and my friend, Sue, and her palomino gelding, Sunny, pick Sara and I up for a ride on the trails behind the county fairgrounds. We meet up with Joan, an equally good friend, and her mare, Hadley, and enjoy a wonderful afternoon. There is that word, wonderful, again. Sara even tolerates a black garbage bag blowing up against a fence post. That is a lot for Sara because she is a real drama queen. I end the day with my four girls grazing in the yard—Ruby being a real sweetie.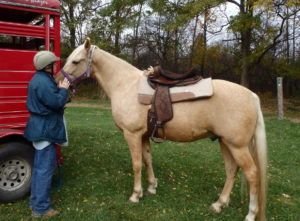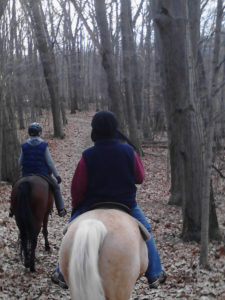 The next day, it is more like October—chilly, damp, and windy! Zena is lame on her back right - but, that is not her bad leg. What is up with that? The next morning, the wind is gone but it is still cool and crisp. We want to grab what trail riding we can before the snow falls, so Sue and Sunny pick us up again and we head off to meet Joan and Hadley at the Elba Equestrian Center, five miles east of my place. The trails at Elba are situated on an esker - a serpentine ridge believed to have been formed by streams under glacial ice - offering up rolling trails along the Flint River.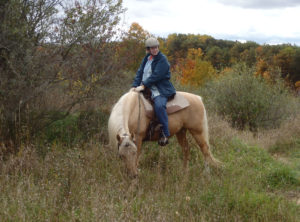 It is a wonderful ride and I snap a great photo of Sue and Joan riding on ahead of me—gold and yellow leaves all around them. I frame eight-by-tens of it for them for Christmas.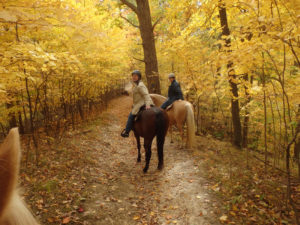 In the evening, after my horses have grazed on the lawn, I bring Ruby into the tack room and am able to both lift and clean all four of her feet by myself. This is a big deal! She is always easier to handle when we are in the tack room than when we are in the huge indoor arena. She has outgrown her weanling halter but is too small for a yearling size. So, I let Sparky use the new yearling halter, while Ruby uses Sparky's pony-sized rope halter. I lead Ruby a hundred feet into the outdoor pen to join up with Sara and Sparky, and then come back in for Zena. This is is another first - her going out before her mom.
On October 18, it is really crisp. As I walk Skipper around the ten acre path, I see a leaf wiggling on the ground. I lean over and espy four baby mice clinging to their mother. How can such tiny creatures survive in such a chill? I know - higher metabolic rates. I don't need to hear that. It is still amazing.
I take a moment to snap pictures of Sara's healed head wounds. Would you not agree that eighty-five-year-old Doc Jim's brother, eighty-five-year-old Doc John, did a phenomenal stitch job?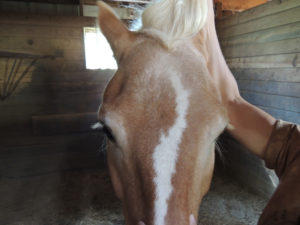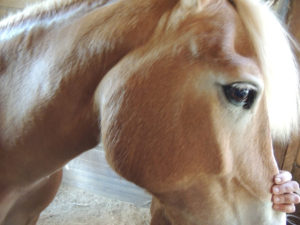 On October 20, Bill comes to trim hooves. Ruby's do not need trimming, but he picks up each foot for, like, five seconds. She is not particularly good for him, and he tells me to keep working with her. In the evening, when I try to halter her, she nips me. I yell at her big time. Now, I am not happy with her nor me. It gets me thinking. For all the friends I write about in these notes, none of them are at the barn often, and none of them have anything more than casual horse experience. If I am going to raise Ruby without resorting to punishment - punishment that is so common in traditional horse training - I need a knowledgeable sounding board and devil's advocate. I value what I am learning through James French's Trust-Technique online program; but I would really appreciate face-to-face communication with someone who can observe my working with Ruby. I find an advertisement in our regional Saddle Up! magazine for Trish Mayer, a trainer/instructor who lives within thirty miles of me and is willing to travel. She has a dressage background, in addition to having completed a good measure of natural horsemanship training; and is currently enjoying the growing popularity of western dressage. In her display photo, her horse is laying on the ground and she is sitting on his side. While visiting with her by telephone, I learn that, although she has started two-year-olds, she has had no experience with fillies as young as Ruby. I am not sure this is a match, but I decide to give her a try. In the meantime, for the fun of it, I make a large mounting box and a teeter-totter for the horses. We will see what comes of that.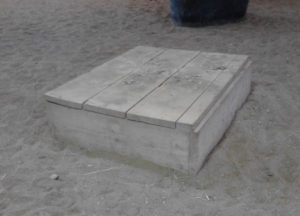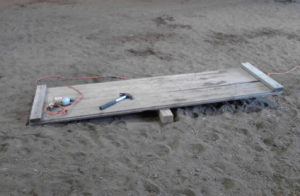 October 23 is bright and chilly. Kim and Sparky, Sue and Sunny, and I and Sara all enjoy a wonderful trail ride in Richfield Park. Later Kim and I handle Ruby's feet really well. I am thinking it is time that Ruby learn to stand quietly but, when I ask, she only earns a "C" for her effort. On the bright side, both Sara and Sparky walk on the teeter-totter. I am impressed! In the evening, Ruby lets me give her a five-minute facial massage. How nice. But, the next morning, she fights me over being haltered. Then, she lets me give her a long quiet massage out at the hay feeder. In the evening, she lets me halter her in the open arena. Who is the inconsistent one - her or me? Maybe, we are two peas in a pod.
October 26 is darn cold! There was frost last night. Ruby halters and leads nicely. We stop after walking just halfway around the arena because I do not want to spoil a good thing. She lifts her leg for me with just a soft touch on her forearm. Good girl.
October 27 is again crisp but I decide to try something new. Sad to say, I thought we would be leading Ruby with her mom all over Richfield Park soon after she was born. And, we did lead them around the entire ten acres a couple of times when she was very young. I think my going out of town broke that routine. I just don't remember. But, I rue the fact that I did not keep it up from the start. Today, I lead Ruby out the trail door and to the back of the outside pen, just the two of us. That would be a hundred and fifty feet. She worries and does a lot of dancing, so we come back. I loosely loop-tie her to the wall where she does more thinking than pulling. That's good.
On October 28, Trish comes over for her first session with Ruby and me. At her suggestion, we each take turns leading Ruby from both sides, swinging the end of the rope around ourselves to protect our space. When Ruby wants to nip, Trish suggests I rub-scrub her muzzle briskly until she stops.  It does not hurt her - it is just obnoxious. Trish also suggests that I ask all of the horses to turn their heads away from me before they receive their grain in their stall buckets or a treat from my hand. It is surprisingly easy to teach them this little habit. When their head comes toward me, my hand withdraws. When their head withdraws, my hand comes forward. They get it. I'm figuring Trish earned her keep today.
The next day, I lead Ruby for a full ten minutes with my rope end swinging. I give her a "B-" for her effort.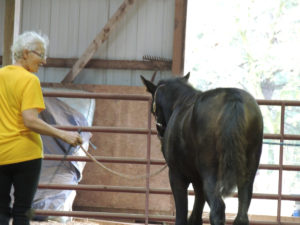 I only need to rub-scrub her muzzle once. But, she pops up twice. The pop-ups can be scary. Her front hooves could hurt! In the evening, I enjoy a wonderful quiet time with her on the lead—mostly just standing around. I use the word wonderful often. That's a good sign.
It is October 31 and Ruby is being good for me—not Halloween witchy! She offers a very nice lead, and picks up all four feet when I touch lightly with a crop and say, "Pick up your foot." She picks them all up a second time when I ask with my fingers touching her upper arms and gaskins. It is a cold and rainy Halloween night - reminds me of my sixth grade Halloween when I trick-or-treated in a Hawaiian moo-moo and nearly froze. I sit at Zena and Ruby's hay tub in the indoor arena for ten minutes while they munch and I eat candy.